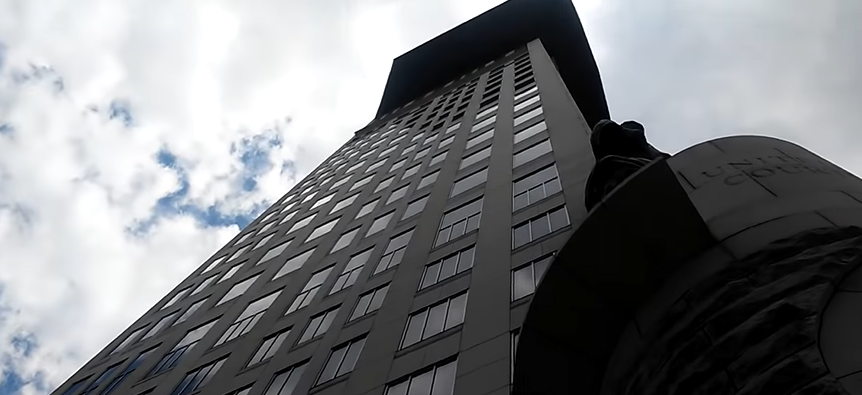 Carl B. Stokes U.S. Courthouse
CLEVELAND (Legal Newsline) - Opioid manufacturers and distributors attacked the fundamental allegations in lawsuits by two Ohio counties that are scheduled to begin trial next month, saying they didn't contribute to the "public nuisance" of opioid abuse and violated no laws by selling their products in Ohio.
In a flurry of briefs before a bellwether trial scheduled to begin Oct. 21 in federal court in Cleveland, Johnson & Johnson, Cardinal Health, McKesson and other companies laid out their trial plans, including arguments they shouldn't be subjected to litigation in the first place.
McKesson made some of the most forceful arguments, saying any evidence suggesting it violated a duty to report suspicious orders to the government would be "irrelevant and unduly prejudicial" because Drug Enforcement Administration regulations changed repeatedly over the years. McKesson also said the plaintiffs can't prove it caused a public nuisance because they're lacking the essential element of causation: As a wholesale distributor, the company says, it only shipped orders based on prescriptions from licensed medical caregivers and those prescriptions were filled by pharmacists exercising their own independent judgment.
"Plaintiffs have no evidence — aggregate or otherwise — that McKesson's conduct caused their injury," the company says.
Johnson & Johnson said it will present evidence it sold only two abuse-resistant products in Summit and Cuyahoga counties, the bellwether plaintiffs, and never exceeded 1% market share. Plaintiff expert James Rafalski, a former DEA investigator, can't identify a single instance of either product being diverted for illegal use in the two counties, J&J says, or any orders that should have been reported as suspicious.
The trial briefs provide a final look at how the plaintiffs and defendants will make their cases in a trial that is intended to set expectations for some 2,000 similar lawsuits collected in the court of U.S. District Judge Dan Polster. The plaintiffs - represented by private attorneys including Motley Rice, Simmons Hanly Conroy, Napoli Shkolnik and the Lanier Law Firm - accuse the entire industry of engaging in a racketeering conspiracy to downplay the risks of opioid painkillers and overlook rampant overprescribing and diversion in order to protect their profits. The epidemic of addiction, overdose deaths and illegal drug use that followed is a public nuisance that will cost billions of dollars to abate, the plaintiffs say.
In their trial brief, the plaintiffs say they will present evidence of an "Opioid Marketing Enterprise" that committed mail and wire fraud by improperly promoting the use of addictive drugs to treat chronic pain. They also identify an "Opioid Supply Chain Enterprise" they say also committed mail and wire fraud and violated the Controlled Substances Act by knowingly allowing orders to be shipped to pharmacies that sold suspicious quantities of drugs. The plaintiffs cite four federal racketeering claims as well as state nuisance and civil conspiracy claims.
In a last-minute switch in strategy, the plaintiffs were forced to separate their claims for damages based on past and future expenses from so-called "abatement," which Judge Polster said he will decide if the jury finds the industry created a public nuisance.
In most public nuisance cases, defendants are ordered to abate the nuisance by removing toxic waste or shuttering a property; with the opioid cases, abatement will consist of cash payments to the plaintiff governments to pay for public services including drug treatment programs and police and emergency services. The plaintiffs acknowledged the two claims tend to overlap, but said they can separate out the continuing costs of dealing with opioid abuse from specific programs designed to abate the root causes, which they attribute to drug industry marketing and failure to intercept suspicious orders.
Most of the defendants signed off on the bifurcation of the RICO and public nuisance damages, although J&J argued jurors will be confused or prejudiced by "emotionally charged evidence of societal harms relating to interference with broadly defined public rights."
In other filings, J&J and the distributors sought to limit evidence the plaintiffs can present at trial. Cardinal asked to block evidence of 14,000 orders it allegedly should have reported to the DEA from 2012 to 2015, saying it discovered the orders as it was collecting documents for state attorneys general and it never shipped any of them.
At the same time, the company said, it was reporting thousands of other suspicious orders to the DEA. The company also sought to limit what it called misleading data comparisons by plaintiff experts who exploited the lengthier period of data reported by McKesson to make it appear as if it shipped more suspicious orders than other defendants, based on a disputed definition of "suspicious" as an order shipped to a pharmacy that had previously been identified by a flagging algorithm.
Johnson & Johnson asked the court to exclude any evidence of its recent courtroom loss in Oklahoma, where a state judge ordered the company to pay the state $572 million to abate the opioid crisis there. The company also sought to exclude any evidence of its former Noramco and Tasmanian Alkaloids units, which supplied raw opiates to manufacturers and became critical to the Oklahoma case after plaintiff lawyers said they made J&J a "drug kingpin." The plaintiffs in the Ohio cases earlier agreed to sever Noramco and Tasmanian Alkaloids as defendants and it's too late for them to revise strategy in the wake of the Oklahoma verdict, J&J said.