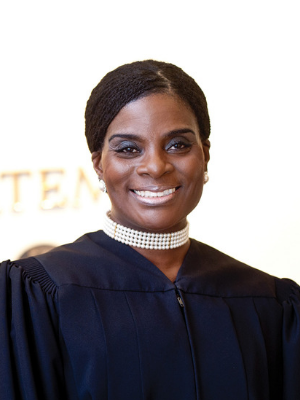 Justice Carol D. Codrington | LMU Alumni Association - Loyola Marymount University
SAN DIEGO (Legal Newsline) – The Court of Appeal of the State of California, 4th Appellate District, Division Two sided with a lower court that granted a former employee's anti-SLAPP (Strategic Lawsuit Against Public Participation) motion, or special motion to strike the company's first amended complaint (FAC) against the worker.
Judge Richard T. Fields authored the Sept. 20 ruling. Judges Carol D. Codrington and Marsha G. Slough concurred.
In the FAC in question, Moss Bros. Toy Inc. said a former employee, Ernesto Ruiz, breached two arbitration agreements from March 2010 when he didn't file his employment claims in arbitration. Rather, he filed a lawsuit against an MBT agent, Moss Bros. Auto Group Inc. (MBAG), in San Bernardino County Superior Court in 2012.
MBT said the lower court shouldn't have granted Ruiz his anti-SLAPP motion considering his complaint isn't concerning protected activity.
Still, the appeals court affirmed the green light for the anti-SLAPP motion and said the FAC is actually concerning protected activity. In his class action lawsuit, Ruiz alleged MBAG didn't pay him and other employees overtime and failed to offer meal and rest breaks that are legally required, among other allegations.
MBAG asked the court to compel arbitration in 2012, which was ultimately denied by the trial court. The appellate court affirmed this, concluding that MBAG "could not rely on two other arbitration agreements to support its petition."
The appellate court also noted that MBT "adduced no evidence that it entered into either of the two written 2010 arbitration agreements with Ruiz—that is, that either of the two agreements were what the FAC alleged they were ... MBT failed to meet its burden on the second step of the anti-SLAPP inquiry of showing that any of the FAC's causes of action had minimal merit."