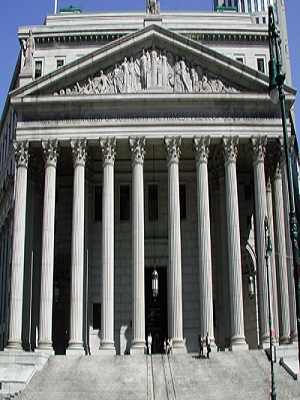 New York County Courthouse
NEW YORK (Legal Newsline) – A New York City judge has grouped plaintiffs together for three coming trials in the city's controversial asbestos court.
On Oct. 2, Justice Cynthia Kern ordered three trials for eight plaintiffs represented by the firm Belluck & Fox, which asked for the consolidations. Two sets of plaintiffs allegedly contracted mesothelioma from asbestos exposure, while the third alleges lung cancer.
"(T)his court finds that the trials in each of the groups involve common questions of law and fact and that consolidation of these cases into the three groups will not prejudice a substantial right of defendants," Kern wrote.
The ruling follows another from Aug. 3, when Justice Barbara Jaffe ordered three trials that featured seven total plaintiffs.
Defendants argued then that consolidating plaintiffs leads to higher jury awards.
Statistics show that, on average, a plaintiff receives $24 million when his or her case is consolidated with other claims.
Those figures were determined by a Bates White study of verdicts from 2010-14. Eight individual plaintiffs received an average award of nearly $7 million.
In consolidated cases, 13 plaintiff verdicts produced a total of $313.5 million.
According to that study, these consolidated verdicts are "250 percent more per plaintiff than NYCAL awards in individual settings over that same span and 315 percent more per plaintiff than the national average award."
In a Legal Newsline article, a plaintiffs attorney with the NYC firm Belluck & Fox said the study didn't take all factors, like the pain and suffering of each plaintiff, into account.
"Damages are subjective," Seth Dymond said.
Earlier this year, defendants in NYCAL asked Justice Peter Moulton for a stay on many of the cases, arguing the manner in which lawsuits are handled has become too unfair to them. NYCAL was named the No. 1 Judicial Hellhole by the American Tort Reform Association in its annual rankings in 2014.
Part of the defendants' arguments centered on the court's practice of consolidating cases for trial.
Moulton did not order a stay, but he did grant a motion to negotiate a modification of the case management order.
The current CMO is 27 years old but has been amended several times, including a controversial 2014 decision by former chief judge Sherry Heitler that reintroduced punitive damages.
From Legal Newsline: Reach editor John O'Brien at jobrienwv@gmail.com.