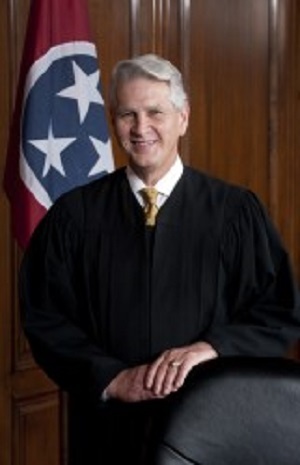 Wade
NASHVILLE, Tenn. (Legal Newsline) - Tennessee Supreme Court Justice Gary Wade announced Friday he plans to retire in September.
Wade, 67, has served as a judge, justice and chief justice for nearly 30 years.
He was appointed to the state's high court in 2006 by then-Gov. Phil Bredesen. He was elected by the court to serve a two-year term as chief justice in September 2012.
Before joining the Supreme Court, he served on the state Court of Criminal Appeals. He was appointed in 1987, and served as presiding judge from 1998 until 2006.
"I would like to thank the people of Tennessee who have allowed me to serve since 1975," Wade said in a statement last week.
His retirement is effective Sept. 8.
Former Supreme Court Chief Justice William "Mickey" Barker called Wade "one of the finest judges" the state has produced.
"His wealth of practical life experiences, together with his keen understanding of the law has made him invaluable in reaching decisions that affect the lives of individuals in our state," Barker said.
Judge Herschel Franks called Wade a "dear friend" and said he will be tough to replace.
"His replacement has big shoes to fill, as Justice Wade, through his long career on our appellate courts, has improved the image of our courts through his dedication and exemplary service to the state of Tennessee," Franks said.
Wade earned his undergraduate and law degrees from the University of Tennessee in 1970 and 1973, respectively.
Last year, he was reelected despite efforts by GOP officials and out-of-state groups looking to shake up the court.
Wade, Justice Cornelia Clark and Chief Justice Sharon Lee -- all Democrats -- won retention.
"I was honored to serve as chief justice during the partisan challenge to the judiciary last year," Wade said Friday, noting the heated election.
"I am especially grateful to the bench and bar, practically all of whom joined in defense of the principle of a constitutionally based balance of powers among the three branches of government."
Wade's replacement will be appointed by Gov. Bill Haslam, a Republican, confirmed by the state legislature and then face a retention election at the end of his or her term.
From Legal Newsline: Reach Jessica Karmasek by email at jessica@legalnewsline.com.