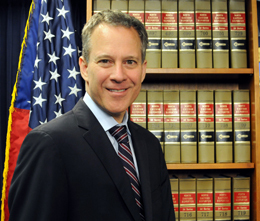 NEW YORK (Legal Newsline) - New York Attorney General Eric Schneiderman and Delaware Attorney General Beau Biden announced Tuesday that 31 attorneys general signed a letter urging three leading smartphone manufacturers to increase consumer protection.

The attorneys general urged Google/Motorola, Microsoft and Samsung to stop the disturbing trend of robberies involving mobile communication devices, better known as Apple Picking. The letter recommends the smartphone manufacturers develop a technological means to protect smartphone users in their states, dry up secondary markets for stolen devices and eliminate the economic incentive for stealing smartphones.

"Manufacturers and carriers need to put public safety before corporate profits and stop this violent epidemic, which has put millions of smartphone users at risk," Schneiderman said. "While we are encouraged by the new, anti-theft security features presented by some smartphone makers, the seriousness of this issue demands a more robust response. I'm glad that my fellow attorneys general have joined our global chorus, increasing awareness of these crimes and insisting that the industry develop a proactive measure to ensure the safety of our citizens."

With the letter, the bipartisan group of attorneys general joined the Secure Our Smartphones Initiative, an effort to encourage the smartphone industry to meaningfully solve the issue of Apple Picking.

"The growing popularity of smartphones has made them valuable targets for thieves who sell them on black markets across the country and around the world," Biden said. "We're concerned that this thriving black market puts consumers needlessly at risk of theft and violence. That's why attorneys general from across the country have joined together to press the smartphone industry, which can and should do more to develop anti-theft features that reduce or eliminate the value of these devices to criminals."

The states that signed onto the initiative were Arizona, Arkansas, Florida, Indiana, Iowa, Kentucky, Maine, Maryland, Michigan, Mississippi, Missouri, Nevada, New Hampshire, New Mexico, New Jersey, North Dakota, Oregon, Pennsylvania, Rhode Island, Utah, and Vermont, in addition to the territories of Puerto Rico and Guam. The new states and territories joined the eight current members of the initiative: New York, Nebraska, Minnesota, Massachusetts, Illinois, Hawaii, Delaware and Connecticut.

In 2012, an estimated 1.6 million Americans were victimized by smartphone thieves, according to Consumer Reports.