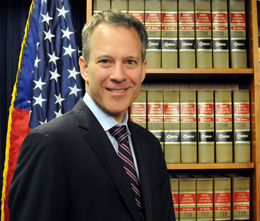 New York Attorney General Eric Schneiderman | New York Attorney General's Office
Standard and Poor's Financial Services, LLC. (S&P) reached a settlement with New York Attorney General Eric Schneiderman on Wednesday over allegations that it issued false or misleading statements about its rating system for certain Commercial Mortgage Backed Securities (CMBS).
S&P also reached similar deals with the Massachusetts Attorney General's Office and the United States Securities and Exchange Commission (SEC).
The financial company allegedly misguided market members into believing its ratings for the CMBS investments were based on more conservative assumptions. S&P allegedly failed to inform investors that it had changed its rating system by loosening up standards for eight CMBS' it was rating. 
"In the wake of the housing crisis and the collapse of the global economy, credit agencies like S&P promised not to contribute to another bubble by inflating the ratings on products they were paid to evaluate," Schneiderman said. "Unfortunately, S&P broke that promise in 2011, lying to investors to increase their profits and market share. Today's joint actions are an unprecedented effort to hold a ratings agency accountable for upholding its basic responsibility—to provide rigorous and honest ratings to investors."
As part of the approximately $80 million settlement, S&P will pay New York $12 million. The SEC will get $35 million, in addition to $7 million in interest. Massachusetts will receive $7 million.
"Investors rely on credit rating agencies like Standard & Poor's to play it straight when rating complex securities like CMBS," Andrew J. Ceresney, director of the SEC Enforcement Division, said. "But Standard & Poor's elevated its own financial interests above investors by loosening its rating criteria to obtain business and then obscuring these changes from investors. These enforcement actions, our first-ever against a major ratings firm, reflect our commitment to aggressively policing the integrity and transparency of the credit ratings process."