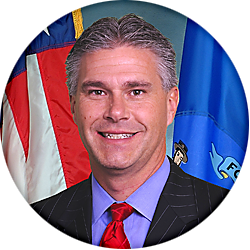 Attorney General J.B. Van Hollen | The Office of J.B. Van Hollen
Wisconsin Attorney General J.B. Van Hollen filed a complaint against an Oregon woman and her periodical subscription business for allegedly sending misleading or false marketing mail pieces.  
Laura Lovrien, who owns Liberty Publishers Service Inc. and Orbital Publishing Group Inc., allegedly sent direct-mail marketing pieces to potential customers, including a number of elderly, that requested that the customers sign up for publications or periodicals, but the two publishing companies weren't affiliated with the periodicals and couldn't ensure subscription. Customers were also offered discount pricing, even though the pricing was often a lot higher than the original publisher's price for the same subscription. 
As an example, Lovrien and her companies allegedly offered subscriptions to the Milwaukee Journal Sentinel for $499 for 52 weeks while the actual cost was $182. The paper also does not deal with third-party subscription companies.
Lovrien also allegedly sent fake invoices, including some for publications that didn't exist.
Lovrien must respond within 20 days, or she will have to pay the penalties and fees associated with the lawsuit, in addition to money awarded for the consumers who filed the complaints and money she illegally made.