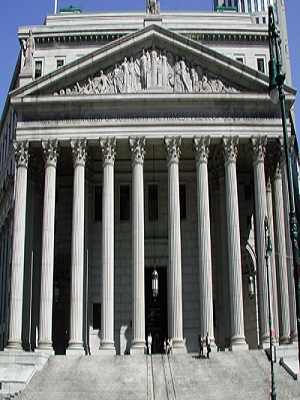 New York County Courthouse
NEW YORK (Legal Newsline) – There will be no stay of lawsuits on New York City's controversial asbestos docket, but there will be changes made to the way cases are handled there.
New York City Asbestos Litigation Judge Peter Moulton on Aug. 28 ruled against defendants who felt a stay was necessary to craft a new order governing cases because court procedures are too unfair to them.
However, he did grant a motion to negotiate a modification of the NYCAL case management order that governs asbestos cases.
"Defendants have not demonstrated the need for the injunction they seek: a stay of all NYCAL litigation, with limited exceptions, while the parties re-negotiate the CMO," Moulton wrote, adding that the procedures in NYCAL are not "rampantly unfair."
"However, the court agrees that defendants have raised important issues that warrant a complete re-examination of the CMO."
The current CMO is 27 years old but has been amended several times, including a controversial 2014 decision.
NYCAL's recent time in the spotlight began when former chief judge Sherry Heitler ruled in 2014 to reintroduce punitive damages in asbestos cases after years of them being deferred.
Then, in December, the American Tort Reform Association named NYCAL the No. 1 Judicial Hellhole in the country in its annual report.
Things continued in 2015 when former New York Assembly Speaker Sheldon Silver was indicted over allegations that he traded state grants to the hospital of a doctor who provided him with referrals to asbestos plaintiffs.
Silver had long been listed as of counsel at the firm Weitz & Luxenberg, which files the majority of cases in NYCAL. The firm has denied any knowledge of Silver's alleged scheme.
Earlier this year, defendants in NYCAL, through attorney E. Leo Milonas, wrote Moulton to ask for a stay. The letter said:
-It is unfair to consolidate cases in the manner NYCAL does, and that the average verdict in consolidated cases per plaintiff is higher than trials featuring single plaintiffs;
-Rulings on burden of proof, late product identification, the production of plaintiffs' bankruptcy trusts, recklessness charges, punitive damages are not in step with rulings on those issues in other jurisdictions;
-Plaintiffs firms are receiving preferential treatment by having to meet a lower standard to have a case on the in extremis docket;
-Certain firms have their cases advanced faster than others;
-The court has found for plaintiffs attorneys too often in discovery disputes and summary judgment and evidentiary motions; and
-Lung cancer cases brought by smokers have flooded the court since two 2011 multimillion-dollar verdicts.
Plaintiffs, led by Weitz & Luxenberg attorney Alani Golanski, claimed the defendants had no evidence that they would be harmed if their request for a stay were rejected.
"With the exception of one newly revised CMO provision – which does nothing other than to afford NYCAL plaintiffs precisely the same rights afforded to all other New York plaintiffs, and to all New York asbestos plaintiffs in other parts of the State, namely, to seek punitive damages jury instructions under appropriate circumstances – defendants have long acquiesced in and fruitfully abided by exactly the same CMO that they now disparate," Golanski wrote.
"Their application for a litigation-wide stay is supported by nothing whatsoever other than rhetoric that is baseless, insupportable and already thoroughly rejected by the NYCAL Court."
So instead of granting a stay, Moulton appointed representatives for both sides to negotiate changes to the CMO.
Representing the plaintiffs will be Charles Ferguson of Weitz & Luxenberg and Jordan Fox of Belluck & Fox, while the defendants will be represented by Judith Yavitz of Darger Errante Yavitz & Blau and Robert Malaby of Malaby Bradley.
Those attorneys will also appoint another two members to join their sides by Sept. 18.
From there, the two sides will prepare a document that specifies points of agreement and disagreement by Oct. 9.
The court will then intervene to attempt to reach a settlement.
"The goal of the negotiation is to reach agreement on a new draft CMO, which will be presented to the NYCAL bar at large for comment.
After the new CMO is drafted, it will be posted on NYCAL's website, and a period comment will commence. Moulton also wrote that he'd consider a town hall-style meeting for the NYCAL bar at some point.
Finally, the court will issue a new CMO.
From Legal Newsline: Reach editor John O'Brien at jobrienwv@gmail.com.