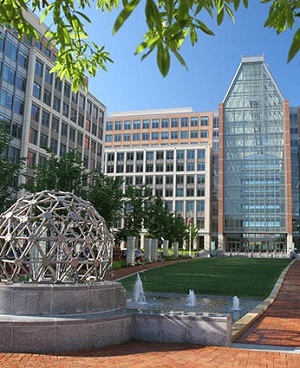 The U.S. Patent and Trademark Office in Alexandria, Va.
WASHINGTON (Legal Newsline) - Development of a new electronic patent application process will begin within the next month, an official with the U.S. Patent and Trademark Office said last week.
Russ Slifer, deputy under secretary for intellectual property and deputy director of the PTO, said in a guest blog post that the eCommerce Modernization, or eMod, system will be implemented in phases over the next few years, starting later this summer.
Once completed, the system, which aims to improve the current process by modernizing the filing and viewing systems, will replace the PTO's EFS-Web, Public PAIR and Private PAIR systems.
EFS-Web is a web-based patent application and document submission solution. Using EFS-Web, anyone with a web-enabled computer can file patent applications and documents without downloading special software or changing document preparation tools and processes.
PAIR is a web-based solution to retrieve and download information regarding patent application status. Public PAIR provides access to issued patents and published applications. Private PAIR provides secure real-time access to an inventor's pending application status and history using digital certificates.
The initial pilot program for eMod is anticipated to start next summer, Slifer said.
"For patent applicants, eMod will help provide a simpler authentication process, improved functionality, and a more user friendly interface and documents," he wrote.
"For patent examiners, the updated systems will streamline patent submission, review and management processes, and increase accuracy of application processing and publication."
Overall, Slifer said the new system will be "more easy to use" and will improve efficiency, communication and patent quality.
PTO Director Michelle Lee, who was confirmed in March, has promised to tackle the office's backlog of patent applications and improve the quality of patents issued.
Slifer said the PTO currently is looking for public comment on its new system.
"We have already started receiving feedback from the IP community and the public, and are incorporating these suggestions into the development process," he wrote.
Those interested can submit their ideas through the PTO's eMod mailbox (eMod@uspto.gov) or review ideas already submitted on the office's Ideascale page.
From Legal Newsline: Reach Jessica Karmasek by email at patents@legalnewsline.com.