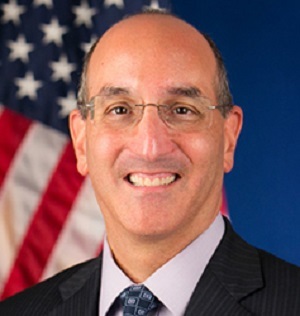 Hirshfeld
WASHINGTON (Legal Newsline ) - Officials with the U.S. Patent and Trademark Office have chosen a successor for newly retired Commissioner for Patents Margaret "Peggy" Focarino.
U.S. Secretary of Commerce Penny Pritzker has appointed Deputy Commissioner for Patent Examination Policy Drew Hirshfeld, effective immediately.
"Drew Hirshfeld brings a wealth of experience to his new post as the U.S. Patent and Trademark Office's commissioner for patents," Pritzker said Thursday. "As deputy commissioner and in his previous position as U.S. PTO chief of staff, Drew has been a valuable resource for the U.S. Department of Commerce and our 'Open for Business Agenda.'
"In his new role, I know he will continue to serve the American people and our nation's great innovators."
As the deputy commissioner for patent examination policy since November 2011, Hirshfeld developed numerous patent examination guidance documents on topics such as patent subject matter eligibility and clarity of the prosecution record.
He also has overseen the Office of Patent Legal Administration, Office of Petitions, Office of the Manual of Patent Examining Procedure, Office of PCT Legal and Office of Patent Quality Assurance.
Hirshfeld also played a key role in the creation of the position of deputy commissioner for patent quality to help the PTO focus on improving patent quality.
Additionally, multiple provisions of the America Invents Act, signed into law in 2011, were implemented under his guidance, including the provisions for first-inventor-to-file, preissuance submissions, inventor's oath/declaration and supplemental examination.
"Drew Hirshfeld has served in a variety of important roles at our agency, and through that service has obtained unique and fundamental insights into our operations and our mission," said Michelle Lee, under secretary of commerce for intellectual property and director of the PTO.
"While overseeing our patent examination policy and engaging with the public, he has gained an invaluable understanding of the wants and needs of American innovators. All of us at the U.S. PTO, and the American public at large, will benefit from his wisdom and experience in his new role as commissioner."
Hirshfeld served two years as the PTO chief of staff, managing operations and intergovernmental communications for then-Under Secretary of Commerce for Intellectual Property and Director of the PTO David Kappos.
He also served as a supervisory patent examiner and a group director of Technology Center 2100, overseeing computer networking and database workgroups.
Hirshfeld began his career at the PTO in 1994 as a patent examiner after earning his undergraduate degree in mechanical engineering from the University of Vermont and his law degree from the Western New England College School of Law.
As commissioner for patents, he will oversee all aspects of the PTO's patents organization, including administration of patent operations, examination policy, patent quality management, international patent cooperation, resources and planning, and budget administration.
PTO employees were notified of Focarino's retirement in April. She officially stepped down July 3 after serving at the PTO for 38 years.
She was appointed to the post in January 2012, taking over for commissioner Robert Stoll, who retired in December 2011.
Deputy Commissioner for Patent Operations Andrew Faile served as acting commissioner since Focarino's departure.
From Legal Newsline: Reach Jessica Karmasek by email at patents@legalnewsline.com.