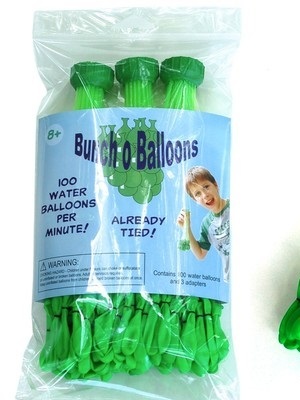 The Bunch O Balloons product, shown, is at the center of the patent infringement lawsuit, filed in a Texas federal court this month.
TYLER, Texas (Legal Newsline) - Bed Bath & Beyond, along with popular direct television marketing company Telebrands Corp., is being sued in a Texas federal court over a product the retailer sells called Balloon Bonanza.
Last week, Tinnus Enterprises LLC and Zuru Ltd. filed a patent infringement lawsuit against the companies in the U.S. District Court for the Eastern District of Texas -- one of the most plaintiff-friendly courts for patent lawsuits.
Tinnus and Zuru allege that Telebrands' product, Balloon Bonanza, which is sold by the domestic merchandise retailer, infringes the patent recently issued to Tinnus -- U.S. Patent No. 9,051,066 -- for Bunch O Balloons.
The product, a hose attachment with 37 pre-connected balloons that automatically fill and tie themselves, has become increasingly popular and often can be seen on television commercials.
The system makes it easier for children to prepare water balloons -- Bunch O Balloons touts it can produce up to 100 water balloons in just one minute.
According to the June 9 complaint, in early 2014 Josh Malone, a father of eight, invented the product and then launched it on crowd-fund website Kickstarter last summer, raising nearly $1 million to date.
Later, Malone assigned the '066 patent to his Plano, Texas-based company, Tinnus, which, in turn, granted exclusive rights to Zuru, which is headquartered in China.
The 12-page complaint alleges that Telebrands "engaged in a scheme to copy and mimic the extremely successful Bunch O Balloons product," and continued to market an infringing product in spite of Zuru's cease-and-desist letters.
"Telebrands began marketing its copy of Bunch O Balloons in mid-December 2014 -- almost five months after Mr. Malone first introduced Bunch O Balloons to the public in his wildly successful Kickstarter campaign," according to the lawsuit.
Telebrands, the lawsuit states, is no stranger to litigation.
According to the complaint, public records indicate the defendant -- the self-described creator of the "As Seen On TV" logo -- has been sued more than 50 times since 1983 for infringement of intellectual property rights.
The company's CEO and founder, Ajit Khubani, often is referred to as the "Knock-Off King" within the infomercial industry.
The lawsuit also notes that the Better Business Bureau's board of directors has revoked Telebrands' status as an "accredited business."
Tinnus and Zuru have asked the court to issue an injunction and an award of treble damages for willful infringement.
Attorneys with Dunlap Bennett & Ludwig PLLC in Leesburg and Richmond, Va., and the Tyler, Texas, law firm Findlay Craft PC are representing the plaintiffs.
Judge Robert W. Schroeder III is presiding over the case.
Telebrands could not immediately be reached for comment.
From Legal Newsline: Reach Jessica Karmasek by email at patents@legalnewsline.com.