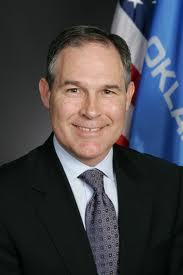 OKLAHOMA CITY (Legal Newsline) - Oklahoma Attorney General Scott Pruitt filed a lawsuit on Thursday against a Chinese oil equipment supplier for allegedly violating state antitrust laws.

Neway Valve Company allegedly sold equipment in Oklahoma at artificially low prices to gain an unfair competitive advantage over legally licensed Oklahoma companies. Pruitt's office said the lawsuit was the first of its kind filed in the state and one of the first lawsuits in the nation filed by an attorney general to stop business-related piracy.

The lawsuit alleges Neway stole manufacturing process-related software and then used the pirated technology to sell its competing equipment in Oklahoma at a lower price.

"Law-abiding companies invest significant capital to license software to operate their businesses and serve their customers," Pruitt said. "The use of stolen software and other intellectual property by unscrupulous companies is unfair, unlawful and gives them an advantage over those companies who follow the law. Piracy is costing Oklahoma companies billions of dollars in lost revenue, impacting their ability to invest in their companies to create new jobs and bolster the Oklahoma economy."

The lawsuit alleges Neway violated Oklahoma common law and Oklahoma's Antitrust Reform Act by creating an unfair market. The suit seeks penalties and an injunction against Neway.

"Any company that seeks a market advantage through piracy, should be held accountable," Pruitt said. "This lawsuit sends a message that Oklahoma will not tolerate those companies, both foreign and domestic, that seek to gain an unfair advantage by engaging in software piracy."

According to a report by the Harvard Business School and the National Association of Manufacturers, Oklahoma companies lost an estimated $3 billion in revenue between 2002 and 2012 due to global companies using pirated American software.