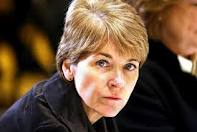 BOSTON (Legal Newsline) - Massachusetts Attorney General Martha Coakley called for a continued focus on mental health services and parity Wednesday during a keynote speech to the Public Health Commission's cost trends hearing.

Coakley said mental health services are as important to the treatment of many patients as physical healthcare. She said the healthcare community must end the stigma connected with mental illness. Coakley said that the perception that mental illness is viewed as less valid than physical illness is a barrier to people seeking treatment.

"As a health care community, we must all focus on making sure that mental health services are available and accessible to all who need it," Coakley said. "We owe it to the patients who are silently suffering, we owe it to our veterans who return home with injuries we cannot see but can be equally debilitating, and we owe it to families who have loved ones they are trying to help but may not know how."

Coakley said that barriers are also in place that keep patients from receiving appropriate, timely and consistent behavioral healthcare, including access to psychotherapists and psychiatrists. Coakley called for a focus on making sure that mental health treatment is available in both emergency and non-emergency situations.

"This will take a commitment from everyone in the health care community and in government to find solutions to ensure that access to quality mental health care is a reality for everyone," Coakley said.

Coakley's office previously brought actions against national health carriers that failed to comply with state laws requiring coverage of mental health services. Since taking office, Coakley has brought seven cases against national insurers, resulting in $5.6 million in payments to consumers and the state.

According to the National Institute on Mental Health, one in four adults suffers from a diagnosable mental disorder in any given year. One in 17 people suffer from serious mental illness and 20 percent of returning Afghanistan and Iraq veterans report symptoms of major depression or post-traumatic stress disorder.