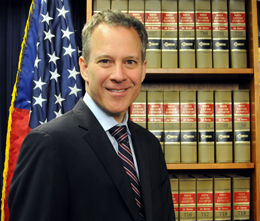 ALBANY, N.Y. (Legal Newsline) - New York Attorney General Eric Schneiderman was joined by nonprofit leaders from across the state Saturday in celebrating Friday's passage of bipartisan legislation to overhaul laws governing the state's nonprofit sector.

Schneiderman's Nonprofit Revitalization Act is the first major overhaul to the state's charities law in more than 40 years. The bill's reforms will remove red tape and enhance governance and oversight of nonprofits.

State Sen. Michael Ranzenhofer (R-Amherst) and Assemblyman James Brennan (D-Brooklyn) sponsored the bill, which unanimously passed in both the Senate and Assembly.

"New York's nonprofit sector rivals any in the nation, providing crucial services to families and institutions across the state," Schneiderman said. "But for too long, it's been hamstrung by red tape in some areas, and lacked oversight in others. Yesterday's vote, the first reform to our charities law in decades, will allow charities to do what they do best-powering our economy, supporting vulnerable citizens and our most treasured institutions. I am grateful to Senator Ranzenhofer, Assemblyman Brennan, Majority Leader (Dean) Skelos and Speaker (Sheldon) Silver for their leadership in guiding this bill to passage. I also thank the New York State Bar Association and countless nonprofit organizations that have worked for years to see this day."

Hundreds of billions of dollars in annual revenue are generated by nonprofit organizations in New York. That total is the highest of any state. One-in-seven jobs in the state are nonprofit-related. The recession and slow economic recovery, however, have created unprecedented strategic challenges for nonprofits while the public's trust has been tested by abuses of the system.

Schneiderman's bill makes New York competitive with other states in attracting and nurturing nonprofits. The bill is the product of more than two years of work by Schneiderman's office and a year of legislative deliberation and negotiation.

Under the terms of the bill, nonprofit organizations will be able to incorporate, dissolve and merge more easily; communicate and hold meetings using modern technology like Skype and videoconference; and enter transactions without having to go to court. The bill also includes oversight and governance reforms to protect taxpayer dollars and preserve public trust, with nonprofit boards performing stricter oversight of insider deals and the attorney general able to hold insiders more accountable for abuse.

The bill also requires that more robust financial oversight requirements, conflict of interest policies and whistleblower be adopted to protect employees from retaliation when identifying wrongdoing.