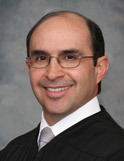 SANTA FE, N.M. (Legal Newsline) -- The New Mexico Supreme Court ruled Thursday that a city did not engage in an unlawful taking of a water company's property when it chose to provide water within an area located outside its limits.
The Public Regulation Commission, or PRC, issued plaintiff and petitioner Moongate Water Company a certificate of public convenience and necessity, or CCN, authorizing the company, as a public utility, to provide water to an area located outside Las Cruces city limits.
The defendant city later annexed three undeveloped tracts of land within Moongate's certificated area, and it committed itself to provide water to this area despite the water company's CCN.
The state's high court, in its 10-page opinion, addressed two questions on appeal:
- Does Moongate have a right to provide water within the certificated area to the exclusion of Las Cruces?
- And, did Las Cruces engage in an unlawful taking of Moongate's property, entitling it to just compensation when the city chose to provide water within the certificated area?
The court answered the first question in the negative, concluding that Las Cruces is not subject to the state's Public Utilities Act.
The city, it explained, does not have a population of more than 200,000, as required under the law.
"Nothing in either the PUA or the statutory sections that regulate municipalities stops Las Cruces from providing service in the certificated area," Justice Edward L. Chavez wrote for the court. "Here, the area at issue was annexed by Las Cruces, which extended the corporate boundaries of the city, and it is therefore clear that Las Cruces may provide water in the certificated area. In fact, pursuant to Section 3-27-8(A), municipalities that operate a water system are authorized to furnish water even outside their corporate boundaries.
"Thus, contrary to Moongate's assertions, Las Cruces may provide utility service in the certificated area, even though the city has not elected to come under the provisions of the PUA."
The court also answered the second question in the negative.
Pointing to the record before it, the court said Moongate has not proven that it had established infrastructure and was already serving customers in the annexed area.
"Absent such proof of a tangible loss, a public utility is not entitled to just compensation when a municipality lawfully exercises its right to serve in the public utility's certificated area," Chavez wrote.
The court, in making its ruling, affirmed a decision of the state Court of Appeals and reversed a district court decision.
The case was remanded to the lower court to enter judgment for the city.
From Legal Newsline: Reach Jessica Karmasek by email at jessica@legalnewsline.com.