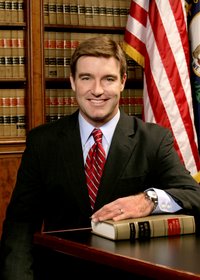 Kentucky Attorney General Jack Conway | The State of Kentucky
The commonwealth of Kentucky joined seven states and the federal government in a $28 million settlement with Extendicare Health Service Inc. and its subsidiary Progressive Step Corporation (ProStep), Attorney General Jack Conway announced on Friday.
The agreement settles allegations that 33 of Extendicare's skilled nursing homes in eight states billed Medicare and Medicaid for substandard nursing services between 2007 and 2013. It also settles allegations that the Delaware-based company failed to provide care to residents that met federal and state standards of care and regulatory requirements.
"We will not tolerate nursing home operators who put profits ahead of patient care," Conway said. "Our seniors rely on the Medicare and Medicaid programs to provide them with quality care, and operators who bill our vital state and federal programs for services so deficient that they are effectively worthless will be pursued for false claims. This settlement illustrates the state and federal government's emphasis on jointly combating health care fraud, and I appreciate the hard work of my Medicaid Fraud Unit and all of the agencies involved in the investigation of this case."
The $28 million settlement will compensate Medicare, Medicaid and various federal health care programs for damages. Extendicare and ProStep must also enter into a five-year Corporate Integrity Agreement with the Office of Inspector General for the U.S. Department of Health and Human Services.
Kentucky's share of the settlement is $1.2 million, with $905,587 being returned to the federal government.