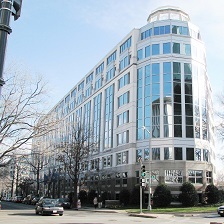 The U.S. International Trade Commission building in Washington, D.C.
WASHINGTON (Legal Newsline) - The U.S. International Trade Commission confirmed this week it is investigating claims by Jawbone, a company known for its wearable technology, against popular fitness tracker Fitbit.
The commission said Tuesday it voted to investigate Jawbone's claims.
The San Francisco-based company and fellow plaintiff BodyMedia Inc. -- which was acquired by AliphCom doing business as Jawbone in April 2013 -- filed a complaint with the ITC last month. Jawbone, in its June 7 complaint, seeks to block Fitbit from importing its fitness trackers or their parts.
The ITC filing was expected, with Jawbone stating in a June federal court complaint that it would be requesting the commission commence an investigation against Fitbit.
The commission is an independent, quasi-judicial federal agency that directs actions against unfair trade practices, including patent infringement.
"The complaint alleges violations of section 337 of the Tariff Act of 1930 in the importation into the United States and sale of certain activity tracking devices, systems and components thereof that infringe patents asserted by the complainants, and that use or were made using misappropriated trade secrets," the ITC said in a news release.
"The complainants request that the U.S. ITC issue a limited exclusion order and a cease and desist order."
The commission has identified Fitbit, Flextronics International Ltd. of San Jose, Calif., and Flextronics Sales & Marketing Ltd. of Port Louis, Mauritius, as respondents in its investigation.
"By instituting this investigation, the U.S. ITC has not yet made any decision on the merits of the case," the commission noted.
According to the commission, its chief administrative law judge will assign the case to one of the ITC's administrative law judges, who will schedule and hold an evidentiary hearing.
The ALJ will make an initial determination as to whether there is a violation of section 337; that initial determination is subject to review by the commission.
The commission said it will make a final determination in the investigation at the "earliest practicable time."
In an amended S-1 filing with the U.S. Securities and Exchange Commission in June, Fitbit said if the ITC were to determine that it infringed any of the Jawbone or BodyMedia patents, the commission could issue a preclusion order that would prevent it from importing its products into the U.S. from contract manufacturers outside of the country.
"We intend to vigorously defend these litigation matters and, based on our preliminary review, we believe we have valid defenses with respect to each of these matters," Fitbit said in the S-1 filing.
Including the ITC complaint, Jawbone has filed three separate legal actions against Fitbit in recent months.
In June, Jawbone alleged in a complaint filed in a California federal court that Fitbit's product line infringes three of its patents.
In May, Jawbone filed a complaint in a California state court accusing Fitbit of "plundering" confidential information by hiring Jawbone employees.
From Legal Newsline: Reach Jessica Karmasek by email at jessica@legalnewsline.com.