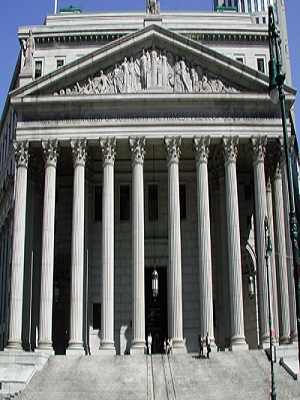 New York County Courthouse
NEW YORK (Legal Newsline) – A judge presiding over lawsuits in New York City's controversial asbestos docket has ordered three trials in which separate plaintiffs will be grouped together.
On Aug. 3, Justice Barbara Jaffe, of the New York County Supreme Court, ruled on a plaintiffs firm's motion to consolidate certain claims for trial. Neither side can claim total victory, as Jaffe denied the plaintiffs firm's request for two trials with eight and five plaintiffs.
She did, though, ordered one trial of three plaintiffs and two trials of two plaintiffs. The remaining six claims will be tried separately.
"For the cases that I consolidated for trial, there exist common issues that predominate over individual issues, and defendants have not established that any undue prejudice will result, or that their fourteenth amendment right to due process will be violated," Jaffe wrote.
"However, as to the other cases, plaintiffs have failed to establish that they shared a common occupation, worksite, or exposure, or that joining these cases for trial would result in judicial economy or greater efficiency."
Defendants have been complaining about how they are treated in the New York City Asbestos Litigation system, particularly since a former judge ruled that punitive damages would be allowed in NYCAL cases.
As a result, NYCAL was named the No. 1 Judicial Hellhole in the country by a national legal reform group in December.
Defendants also recently asked new NYCAL chief judge Peter Moulton to impose a stay on cases to revise the case management order governing how asbestos lawsuits are handled.
Plaintiffs firms say there is no truth to defense claims that companies are treated unfairly.
Further attention was placed on the court when former New York Assembly Speaker Sheldon Silver was indicted over allegations that he traded state grants to the hospital of a doctor who provided him with referrals to asbestos plaintiffs.
Silver had long been listed as of counsel at the firm Weitz & Luxenberg, which files the majority of cases in NYCAL. The firm has denied any knowledge of Silver's alleged scheme.
As defendants argued that consolidating cases against them, they apparently referred to statistics showing that, on average, a plaintiff receives $24 million when his or her case is consolidated with other claims.
Those figures were determined by a Bates White study of verdicts from 2010-14. Eight individual plaintiffs received an average award of nearly $7 million.
In consolidated cases, 13 plaintiff verdicts produced a total of $313.5 million.
According to that study, these consolidated verdicts are "250 percent more per plaintiff than NYCAL awards in individual settings over that same span and 315 percent more per plaintiff than the national average award."
In a Legal Newsline article, a plaintiffs attorney with the NYC firm Belluck & Fox said the study didn't take all factors, like the pain and suffering of each plaintiff, into account.
"Damages are subjective," he said.
The plaintiffs in the consolidated trials, who have all passed away, will be:
-Bart Miceli and John Ward, the only mesothelioma plaintiffs. Of the 10 asbestos-containing items to which they say they were exposed, they have six in common. They also have two remaining defendants in common.
-John Carey, William Falkenmeyer and Charles Frick - three men who, Jaffe ruled, were exposed at the same time period and have three remaining defendants in common; and
-Richard Nash and Romeo Pettinelli, the only plaintiffs among the 13 who are arguing exposure in the 1940s. Jaffe wrote that they have similar work histories.
Thomas Comerford of Weitz & Luxenberg was representing the plaintiffs' side in the issue.
Of the 13, only Paul Miller, a pipefitter for Bethlehem Steel, is still alive. His trial will take place first.
From Legal Newsline: Reach editor John O'Brien at jobrienwv@gmail.com.