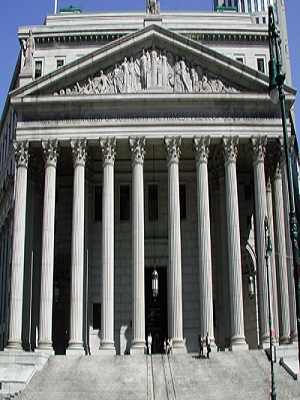 New York County Courthouse
NEW YORK (Legal Newsline) – Last summer, Ford Motor Company accused a major New York City asbestos firm of engaging in the same type of misleading behavior that led to a landmark 2014 ruling and a handful of racketeering lawsuits, court records show.
On Aug. 7, Ford asked New York City Asbestos Litigation Judge Barbara Jaffe to reduce a once-$11 million verdict by the amount it felt should have been paid to plaintiff Arthur Juni by the bankruptcy trusts covering exposure caused by Raybestos and Wagner products.
The letter created a testy exchange with plaintiffs firm Weitz & Luxenberg. One of the firm's lawyers wrote that it was difficult to remain civil while responding to the claims, labeling Ford's move an "outburst."
Ford claimed Juni repeatedly referred to exposure from two other companies' brake products, but Weitz & Luxenberg never submitted claims to their trusts while pursuing his lawsuit against Ford and other defendants.
Juni was entitled to $125,000 from the Raybestos trust and between $100,000 and $300,000 from the Wagner trust, Ford claimed. It was later shown that the Wagner trust was not accepting claims at the time.
"Plaintiffs' counsel was under a duty to their clients, litigants and the Court to mitigate damages by filing all viable claims with asbestos bankruptcy trusts," Ford's attorneys wrote.
"The only conceivable motive for plaintiffs' counsel's failure to file such meritorious claims is gamesmanship, pure and simple.
"Plaintiffs' attorneys know that any amount received from such trusts would be set-off from a judgment."
Ford attached a 2014 ruling from Judge George Hodges, of a bankruptcy court in North Carolina, that said plaintiffs attorneys at other firms had been delaying filing their clients' trust claims while lawsuits against Garlock Sealing Technologies were pending.
By doing so, Hodges ruled, plaintiffs attorneys had unfairly maximized recovery against Garlock, which eventually filed for bankruptcy in 2010 and is in the process of setting up its own trust.
Garlock made its argument after being permitted discovery into 15 cases. It has filed racketeering lawsuits against the plaintiffs firms involved in those cases.
Weitz & Luxenberg is not among the firms sued by Garlock.
The firm's Juni case is notable in that the multimillion-dollar verdict was overturned earlier this year, and an appeal of that decision is pending.
In April, Jaffe granted Ford's motion for judgment notwithstanding the verdict and dismissed the complaint.
"The Court misapprehended the relevant law and overlooked the critical facts, improperly invaded the jury's province, and erroneously failed to view the evidence in the light most favorable to the nonmovant," Alani Golanski of Weitz & Luxenberg wrote.
Ford argued that the opinions of Juni's expert witnesses on causation lacked a sufficient foundation and were based on invalid assumptions.
Another noteworthy aspect of the case is that court records show Juni was treated by Dr. Richard Taub, who headed a Columbia University mesothelioma research center at the time.
Taub has been identified as the doctor at the center of the indictment of former New York Assembly Speaker Sheldon Silver.
Silver is accused of trading state research funds to Taub in exchange for referrals to mesothelioma patients like Juni. Silver was of counsel at Weitz & Luxenberg for years and is accused by federal prosecutors of using his position in state government to illegally earn millions of dollars in referral fees at the Weitz firm and another firm.
The Weitz firm has denied any knowledge of the alleged scheme. Taub has since been let go by Columbia and has filed a lawsuit against his former employer.
Golanski responded to Ford's claims of gaming the asbestos recovery system in an Aug. 13 letter to Jaffe.
"Wow. Where to begin?" Golanski wrote. "And more of a dilemma, how to begin while remaining civil?
"Another explanation that is both 'conceivable' and, coincidentally, true is that the Federal Mogul Asbestos Personal Injury Trust is not yet open for, and not yet accepting, any claims arising from asbestos exposures to Wagner Electric Corporation products."
Golanski called Ford's Warner allegation a "gaffe" and defended the firm's election not to file a Raybestos claim. He said the company's estimation of the worth of Juni's claim is not reliable.
The figure Ford used would be subject to a massive reduction, leaving it at a worth of $1,050, he said.
"(T)here is simply no basis in New York law for any reduction from a verdict for sums that speculatively or hypothetically might be realized – here $1,050 – from a settlement that has not yet occurred," Golanski wrote.
Ford didn't back off in its reply letter to Jaffe, claiming Golanski did not explain why no claim was filed to the Raybestos trust. It also disagreed with his $1,050 figure.
And though Golanski was correct that the Wagner trust was not accepting claims at the time, he is wrong that no set-off could be ascribed to that entity, Ford claimed.
A day later, Golanski wrote to Jaffe that Ford's admittance that he was correct about the Wagner trust renders its "initial outburst… wholly irresponsible."
It is unclear from court documents what affect the exchange had on the case. Ford's post-trial motion did not ask for an offset in the amount of what it felt would have been recovered from the trusts.
Instead, the company asked for an offset of the amount the plaintiff earned in settlements with other solvent civil defendants – roughly $1.7 million.
From Legal Newsline: Reach editor John O'Brien at jobrienwv@gmail.com.