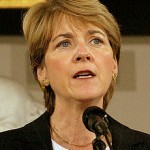 BOSTON (Legal Newsline) - Former Massachusetts Attorney General Martha Coakley will begin her new job with a Boston area law firm this week.


Coakley is joining Foley Hoag LLP Tuesday. She will work in several area of the firm's key practice areas, including health care, education, finance, energy, data privacy and security, and government and internal investigations, according to a news release.


Coakley has 30-plus years of legal experience, in both the private and public sectors.


She was the first woman to serve as Massachusetts' top lawyer, serving from 2007 to 2015.


Prior to that, she was elected district attorney for Middlesex County, serving from 1999 to 2006. She worked as a prosecutor in the office for 10 years before taking over the district attorney position.


She also served as special attorney with the U.S. Department of Justice Boston Organized Crime Task Force.


Before entering public service, Coakley was a civil litigator with two other Boston-based law firms.


"Martha will be an enormous asset to the firm and our clients," Foley Hoag Co-Managing Partner Adam Kahn said last week. "She will be joining a team of experienced, practical lawyers who have an exemplary record of conducting complex and sensitive investigations, finding creative solutions to difficult problems, and aggressively litigating when necessary.


"We are extremely happy with her decision to join us."


Coakley, who ran, unsuccessfully, for U.S. Senate in 2010 and governor in 2014, said she is "very much" looking forward to joining the law firm.


"Foley Hoag has a national reputation for excellence and integrity in legal practice," she said. "It has also shown a consistent commitment to important social issues in Massachusetts.


"It works actively to promote diversity and to create opportunities for people through its pro bono program and the Foley Hoag Foundation. It is a firm where I can pursue interests I've had throughout my career and branch out into new areas."


From Legal Newsline: Reach Jessica Karmasek by email at jessica@legalnewsline.com.