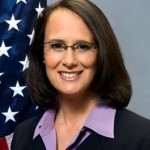 CHICAGO – Illinois Attorney General Lisa Madigan is asking a federal judge to bow out of Governor Bruce Rauner's dispute with state employee unions so a St. Clair County judge can resolve it.




On April 30, Madigan filed a brief urging U.S. District Judge Robert Gettleman to rule that Rauner lacks standing to sue the unions in federal court.




The unions echoed her argument in a brief on the same date.




Rauner filed suit in February, challenging the constitutionality of "fair share" fees that unions collect from workers who don't belong to the unions.Their brief stated, "The Governor's attempt to avoid his own state courts in favor of this one has created a procedural thicket, but there is a clear path out."




In March, the unions sued Rauner in St. Clair County chancery court.




Rauner then amended his federal complaint to add three state employees as plaintiffs, though he failed to obtain permission from Gettleman to add them.




Rauner argued that the three have standing if he does not, but Madigan and the unions argue that the three should file their own complaint.




"The Governor all but concedes that his original complaint did not establish federal jurisdiction," Madigan wrote.




"Even if the court could allow intervention or an amendment of Governor Rauner's complaint to add plaintiffs who have claims within the court's original jurisdiction, that still would not support keeping the Governor's claims in the case."




She wrote that Rauner isn't seeking to remedy any injury to his own First Amendment rights, but is seeking to vindicate rights of employees who object to paying fair share fees.




"Governor Rauner's attempt to precipitate a dispute over fair share fees paid by state employees who are not union members, and then to inject himself into that dispute, is built on multiple propositions of Illinois law that are far from being clearly established and, accordingly, should be resolved by an Illinois state court."




The brief of the unions states that a dispute between the governor and the legislature is precisely the kind of dispute federal courts should avoid.




The brief pointed out that the three prospective plaintiffs belong to only two of the 28 unions that Rauner sued.




Gettleman has set a May 27 hearing on jurisdiction.




In St. Clair County, associate judge Christopher Kolker presides over the dispute.