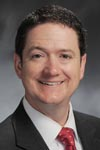 ST. LOUIS (Legal Newsline) -- Missouri House Speaker Tim Jones said he intends to run for state attorney general in 2016.
Jones, a Republican, confirmed his plans in an interview with St. Louis television station KMOX Thursday.
However, he said an official announcement "will have to wait."
Jones, who is term-limited, has been flirting with the idea for months and has considered running for other statewide offices.
He currently practices in the litigation department of Chesterfield law firm Doster Ullom LLC, representing businesses in the areas of corporate, transactional, real estate and tax assessment appeals.
Jones was first elected to the Missouri General Assembly in November 2006, and re-elected in 2008, 2010 and 2012.
He started his career as an assistant prosecuting attorney in New York.
Current Attorney General Chris Koster, a Republican-turned-Democrat, announced in April he intends to run for governor in 2016.
From Legal Newsline: Reach Jessica Karmasek by email at jessica@legalnewsline.com.