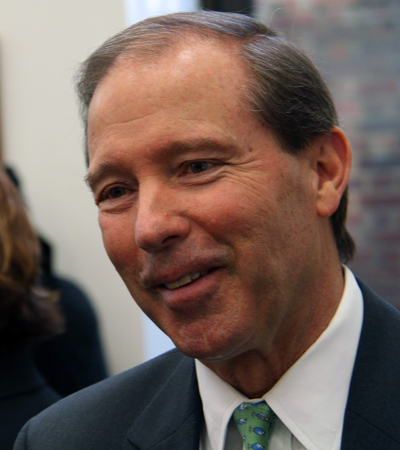 WASHINGTON (Legal Newsline) -- On Tuesday, two U.S. senators proposed separate constitutional amendments in an effort to restrict campaign spending by corporations.
An amendment proposed by Montana's Sen. Jon Tester, a Democrat, says corporations don't have constitutional rights.
During a press conference held Tuesday morning, Tester pointed to a U.S. Supreme Court ruling in 2010 that allowed unrestricted campaign spending by corporations.
The nation's high court held in Citizens United v. Federal Election Commission that corporate funding of independent political broadcasts in candidate elections cannot be limited because of the First Amendment.
The court's ruling in favor of Citizens United stemmed from a dispute over whether the non-profit corporation could air a film critical of current U.S. Secretary of State Hillary Clinton.
According to the Billings Gazette, Tester said the flux of campaign spending by corporations in the wake of the ruling is "overwhelming" the electoral process.
Tester was joined by New Mexico's Sen. Tom Udall, also a Democrat.
Udall introduced a companion amendment that says campaign money should not be deemed "speech."
Under his amendment, Congress and states would have the authority to regulate the raising and spending of campaign money by corporations.
Constitutional amendments must be approved by two-thirds of both the U.S. House of Representatives and Senate.
After that, they must be approved by the legislatures in at least 38 states.
Special interest groups, including the People For the American Way, Public Citizen and Common Cause, say they support the senators' efforts.
"A constitutional amendment is the only way to completely reverse the damage done to our democracy by the devastating Citizens United decision and related cases. No one takes amending the Constitution lightly, but there have been multiple moments in American history where the people have had to collectively undo the harm done by the Supreme Court when it acts against justice, democracy and the common good," said Marge Baker, executive vice president of People For the American Way.
"As a country, our voices are being drowned out by huge corporations and wealthy special interests. We are heartened that these senators understand the need for a constitutional amendment to take our democracy out of the hands of corporations and wealthy special interests put it back into the hands of everyday people, where it belongs."
Robert Weissman, president of Public Citizen, agreed.
"The American people are refusing to accept the corporate takeover of our politics and country," he said. "Fifteen states and the District of Columbia have called for a constitutional amendment to restore our democracy, as have nearly 500 cities and towns across the country. Now come U.S. Sens. Tom Udall and Jon Tester to supercharge the momentum for constitutional reform."
Karen Hobert Flynn, Common Cause's senior vice president for Strategy and Programs, said Americans simply have had enough.
"We look forward to working with Sens. Tester and Udall and other members of the House and Senate as we work in every state to support a constitutional amendment to combat the flood of money unleashed by the Citizens United decision," she said.
"Our country has lived with the disastrous consequences of Citizens United for over three years now. Millions of Americans have registered their anger by filing voter instruction resolutions to overturn Citizens United at the ballot box, in town halls and in state capitols across the country."
California, Colorado, Connecticut, Delaware, Hawaii, Illinois, Maine, Maryland, Massachusetts, Montana, New Jersey, New Mexico, Rhode Island, Vermont and West Virginia, along with the District of Columbia, have called for an amendment to overturn the decision.
In addition, nearly 500 local municipalities have called for a constitutional amendment.
From Legal Newsline: Reach Jessica Karmasek by email at jessica@legalnewsline.com.