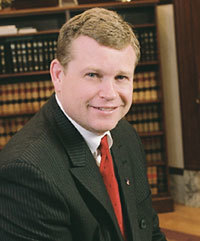 BOISE, Idaho (Legal Newsline) - Idaho Attorney General Lawrence Wasden announced a settlement on Thursday with a Boise loan broker who allegedly violated the Idaho Consumer Protection Act and Idaho's loan broker law.

Wasden's office received consumer complaints about Dairld Wurtz, Jr., the operator of Allied Commercial Parters 1 LLC, after he allegedly accepted upfront fees for unfunded loans. Consumers allegedly paid thousands of dollars to Wurtz for business loans. Wurtz allegedly continued to charge the consumers for expenses without providing a commitment to lend, in violation of the Idaho Consumer Protection Act and Idaho's loan broker law.

"Every year my office receives dozens of complaints from consumers who lost money to loan brokers because the consumers paid upfront fees for loans they never received," Wasden said. "If a loan broker asks a consumer for an upfront fee, including an application fee, that loan broker has violated Idaho law."

Under the terms of the settlement, Wurtz must pay $19,575 in restitution to the consumers who contacted Wasden's office, pay $1,500 to Wasden's office for attorney costs, give a copy of the settlement to his employees to ensure compliance with its terms and provide his customers with all required written disclosures, including how long it will take him to arrange a loan.

A $15,000 civil penalty will be held in abeyance as long as Wurtz complies with the agreement.