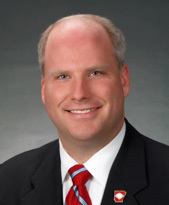 LITTLE ROCK, Ark. (Legal Newsline) -- Arkansas Attorney General Dustin McDaniel on Tuesday admitted he had an inappropriate relationship with a Hot Springs attorney after court documents were filed alleging a sexual affair.

McDaniel, a Democrat who is the only announced gubernatorial candidate for 2014, admitted to a relationship with Andrea L. Davis, but offered no other details, according to numerous media reports.

McDaniel and his wife Bobbi have been married since 2009.

"With respect to Ms. Davis, I met her during the 2010 campaign," McDaniel said in a statement. "I had limited interaction with her in 2011, some of which I regret to say was inappropriate. ...

"My wife Bobbi and I love each other very much. I have been candid with her about this matter, and with much prayer, we have moved on with our life together. I hope the people of Arkansas will also accept my apology and know how honored I am to work for them every day."

Neither he nor a spokesperson would elaborate.

The news came after McDaniel was mentioned in a court filings regarding a custody dispute between Davis and her ex-husband.

McDaniel already has raised more than $1 million for his 2014 gubernatorial bid. A spokeswoman for the AG said he does not plan to drop out of the race. He was elected Attorney General in 2006 and re-elected in 2010.